Young woman leading fight to keep wetland healthy
Recognition from pair of renowned tech tycoons boosts her resolve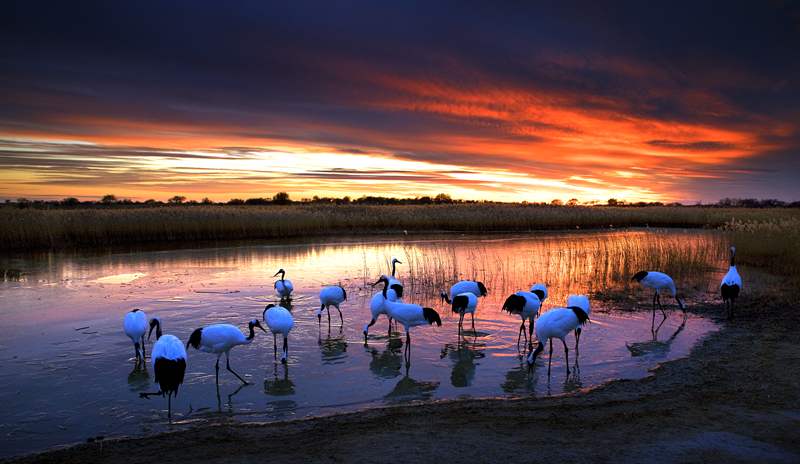 Wang Chunli was thrilled to receive a letter from the "Two Mas" – Alibaba founder Jack Ma Yun and Tencent CEO Pony Ma Huateng.
As the co-chairmen of the Paradise Foundation, an environmental NGO also supported by other famous entrepreneurs, the two tech tycoons praised Wang's contributions to ecological conservation in the Xianghai National Nature Reserve in Tongyu county, Jilin province.
For the past two years, Wang, 28, has been struggling to protect the balance between man and nature, with the former's developmental aspirations often coming at the latter's expense.
"Congratulations! You've won the Three-Class Merit Award for ecologically sound civil construction by your local government," they wrote in the letter. "It is also a great honor for our foundation."
Established in 1981, the reserve – located in western Jilin – is an important wetland for resting and breeding migratory birds.
Covering 1,054 square kilometers, the wetland attracts large populations of storks, swans, red-crowned cranes and white-tailed eagles.
In December 2016, the Paradise Foundation signed a 30-year agreement with the reserve and the Jilin government to establish the Xianghai Ecological Protection Center.
The center, which covers 175 sq km – about half of the reserve's core zone – is directly managed by the foundation and supervised by the local government.
It is China's first national nature reserve center directly managed by a nonprofit ecological conservation organization and supervised by a local government.
After finishing her master's degree in nature reserve management at Northeast Forestry University in Harbin, Heilongjiang province, in June 2016, Wang was appointed by the foundation to the reserve to help manage the multiparty cooperation.
On her first visit, she was bowled over by the rich ecological assets, but shocked by the severe human impact.
At that time, about 20,000 residents were living in 12 villages within the reserve. The residents continued to engage in activities that were strictly prohibited, such as allowing sheep to graze freely, hunting rare birds and catching fish in the core zone.
"I realized it would take a great effort to change hearts and minds, but I really didn't expect so many people would actually be allowed to reside in a nature reserve," she said. "There were even residents living among the habitat of endangered red-crowned cranes and beside rare flora."
When the center was founded, Wang became its director, and the first thing she did was recruit eight members for a patrol team from nearby villages.
"We had a plan to eliminate all harmful human activity in the reserve within five years," she said. "The locals are the most familiar with the environment they live in, so I needed their help.
"What's more important, the wetland will ultimately be managed by them. We will give it back to the local residents after helping them train a professional team."
Wang leads the team to control illegal grazing, fishing and poaching in the reserve each day.
In 2017, they helped the local government investigate over 600 violations. A GPS system showed they walked more than 40,000 km during the year.
Wang still remembers a case in which they helped police catch a poacher who illegally possessed a firearm in the summer of 2017.
"During a foot patrol, the team found a car in the core zone," she said. "Through the window, we noticed shotgun parts."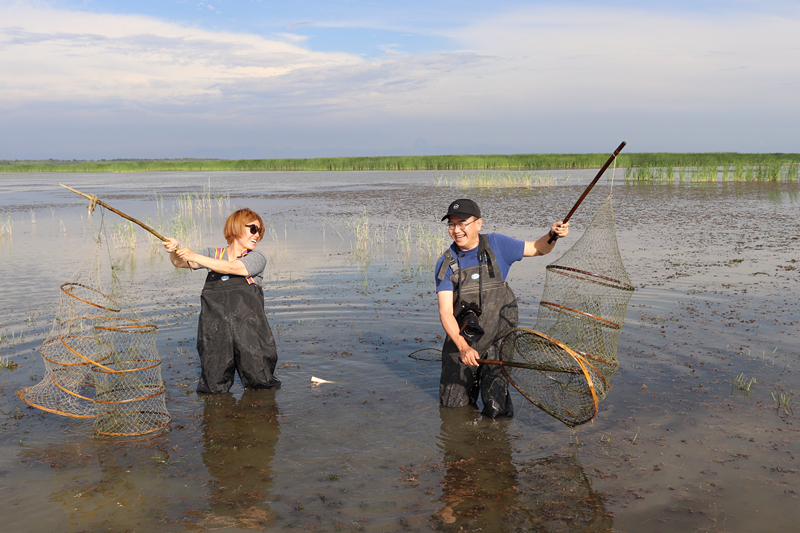 They realized poachers were active in the area and reported the activity to the reserve administration.
"Before law enforcement officials arrived, we saw a man emerge from the water empty-handed," Wang recalled. "My colleagues told me he lived in a nearby village and people all knew he owned a gun."
Without any evidence, they couldn't prevent him from driving away, but Wang believed he was hiding his weapon somewhere in the reserve.
"We decided to stay there to wait for him to get his gun back," she said. "In fact, I knew it may be quite dangerous but I couldn't hold back. Illegal acts would be even more brazen if we did nothing to confront such appalling behavior.
"For the entire night, I could feel there were people surrounding us. In fact, I was really scared because I didn't know what they would do."
Fortunately, nothing happened and the police found a shotgun in the water the next morning.
"After the poacher was sent to prison for illegally possessing a weapon, the villagers began to believe that we were really doing something for ecological conservation," Wang said.
In the past few years, in addition to daily patrols, she has visited a number of nearby villages to explain the importance of ecological protection and learn about the needs of local residents.
"I found my words generally fall on deaf ears if I only tell them that the wetland acts as the Earth's kidneys," she said. "What they need more urgently is guidance on how to improve their lives if they change their traditional lifestyle away from overreliance on the reserve."
Wang began to collect and send information about environmentally friendly industries to residents, such as growing organic grains and breeding chickens native to the area.
"More people changed their mindset and accepted new ideas," she said.
Furthermore, during vacations, Wang set up three different centers in three villages to help students study and organize various activities.
"The college student interns and volunteers offered free tutoring to more than 130 local children, freeing up time for their parents to engage in different activities," Wang said. "Moreover, the government has attempted to solve the problem with a resettlement project."
Authorities demolished 248 homes, reverted 6,711 hectares of farmland to grassland, and provided 8,000 yuan ($1,190) annually as reimbursement for every hectare villagers gave up.
"The good news is that all the efforts are bearing fruit," Wang said.
"Rare birds like the red-crowned cranes are returning in large numbers to the reserve, and residents' awareness of ecological protection has gradually improved."
By Zhou Huiying in Harbin and Han Junhong in Changchun | China Daily |