California growers of Pima cotton will feel tariff impact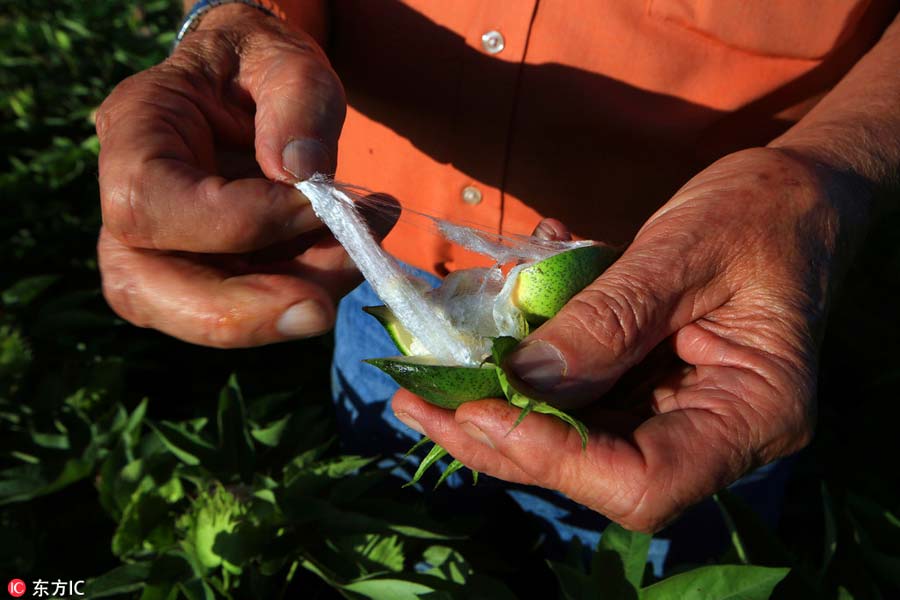 There is uncombed cotton. Combed cotton. And Pima cotton.
All of it is grown by US farmers and as of Friday, it's subject to the 25 percent tariff that China has slapped on $34 billion worth of US goods in retaliation for the same tariff percentage on the same amount of goods imposed by the Trump administration earlier Friday.
Cotton is produced in 17 states. Texas produces the most, followed by Georgia and Mississippi. In 2017, the US produced 21.3 million bales of cotton, according to the US Department of Agriculture (USDA).
The US is the world's largest exporting country for cotton and exports around three to four times more than what is consumed domestically. For the past decade, cotton contributed around $5.48 billion annually to the US farm-level production value, the USDA said.
American Upland cotton and American Pima cotton are two cotton species grown in the US. Upland cotton made up around 96.7 percent of all US cotton production in 2017, according to the USDA. Pima cotton is primarily grown in California and Arizona. Pima cotton is soft to the touch and durable.
In the Central Valley region of California, one type of cotton that represents the majority of the state's cotton acreage and that will be hit by the tariffs is the highly prized long-staple American Pima cotton. It's soft to the touch and durable. Most of the crop is exported to China and India.
California exported $88.5 million worth of cotton to China and Hong Kong in 2016. For the 2017-18 crop year, that value has jumped to about $185 million due to increased shipments, said Jarral Neeper, president of Calcot, which markets cotton from California, Arizona, New Mexico and Texas.
It'll be difficult for China to find another reliable source of Pima cotton, Neeper told The Daily Democrat newspaper in Woodland, California. because there aren't too many places except California that produce it. China could buy extra-long staple cotton from Egypt, and there are some varieties of Pima produced in India, but not as good quality, he added.
Many textile mills have licenses to use the Supima trademark and the only way they could produce their goods is to buy US Pima cotton, Neeper said.
With the tariff, the mills will have to pay more, and then that apparel will come back to the US and hit consumers with a higher price, he said.
"All of a sudden, your $80 Brooks Brothers dress shirt is 150 bucks," Neeper said.
"This is an issue that is going to affect the US cotton industry rather significantly as China has traditionally been a larger buyer of US cotton and a massive supplier of products back to the US market," said Marc Lewkowitz, the president and CEO of Supima, a nonprofit promotional organization in Arizona representing American Pima-cotton growers. It is also the owner of the Supima trademark for American Pima.
He said that about 95 percent of the American Pima crop is exported every year, and typically China imports about 40 percent of that crop. For the crop year that runs through July 31, China has purchased 239,200 bales, or approximately 120 million pounds of the fiber, valued at around $200 million, Lewkowitz told California Apparel News.
Cannon Michael, president and chief executive of Bowles Farming Company, which grows Supima and other cotton on land near Los Baños, California, said some speculators have pulled out of the market, which has put a damper on cotton prices.
His farm exports about 60 percent of its cotton crop to China and another 40 percent to India. "Any trade disruption is potentially negative," he told Apparel News, "especially for states like California that export a lot of agricultural products
Once the world's top cotton importers, China has seen its imports reduced to around 1 million tons last year, mainly due to efforts to reduce its state stockpiles. As the inventories are reduced, China has begun allowing more imports, cotton industry analysts said.
China is set to return as a major cotton importer, taking 10 million to 15 million bales (2 million to 3 million tons) a year by 2019/20, compared with 5 million bales this year, according to Tim Bourgois, head of the cotton platform at Louis Dreyfus Company.
"Chinese demand is huge. This is an opportunity for India to raise exports," said Atul Ganatra, president of the Cotton Association of India.
India has lower freight rates, and shipments from India reach China in about two weeks compared to an average of three to six weeks from other producers Australia and Brazil, dealers told Reuters.
The weak rupee also makes India's exports more appealing, and freight costs to the neighboring Asian country can be relatively cheap, Keith Brown, president of Keith Brown & Co, a brokerage in Moultrie, Georgia, told Bloomberg. "It's a question of price and proximity."
By AI HEIPING | China Daily USA