Robust fundamentals boost Moutai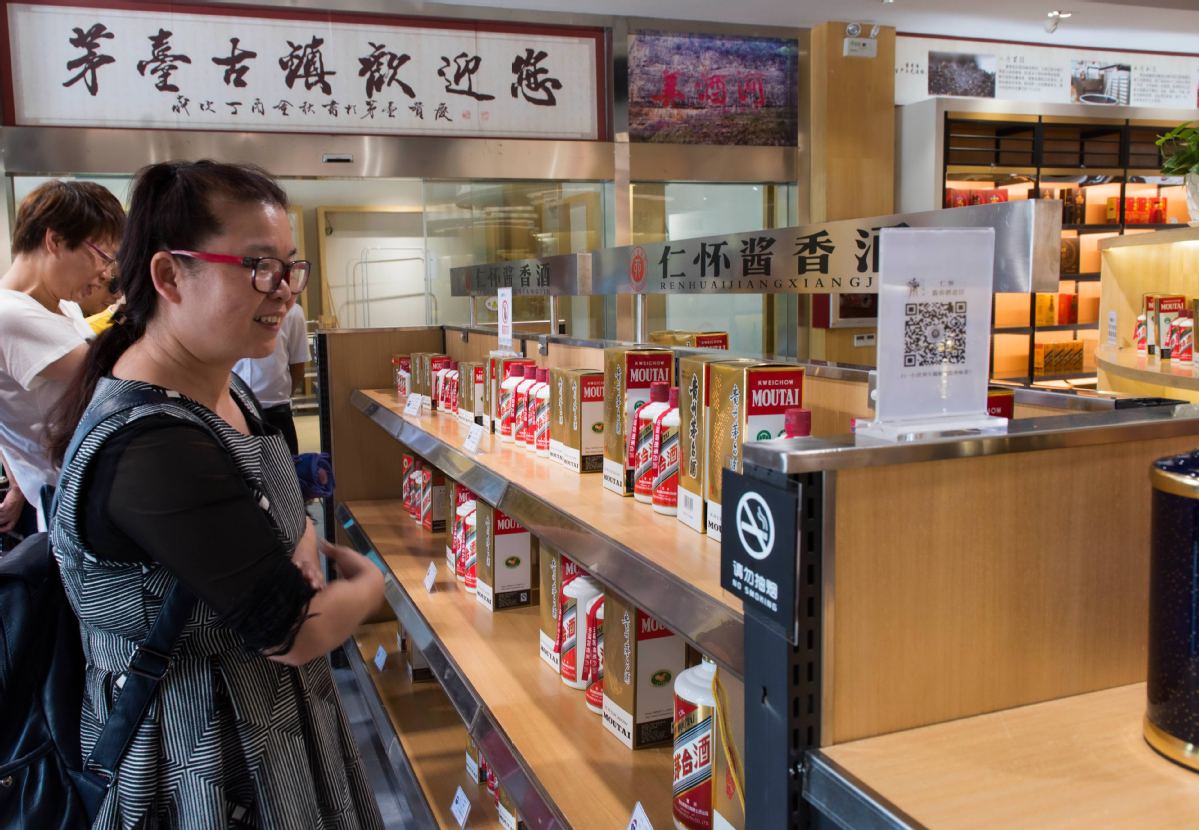 Distiller remains focused on balancing supply shortfall with soaring demand 
Kweichow Moutai Co Ltd, China's signature high-end spirit maker, netted double-digit growth rates for its major economic indicators in the first half of the year, the highest recorded in the past few years.
In the first six months of 2018, Moutai achieved sales revenue of 35 billion yuan ($5.23 billion), jumping 37 percent year-on-year. During the same period, the company's net profits expanded by 40 percent, according to its statement released on Sunday.
Moutai, a distiller from Maotai town in Southwestern China's Guizhou province, added that the figures are based on preliminary accounting data, meaning the final figures could differ. The company will disclose its official half-year earnings report at a later time.
Shanghai-listed Moutai closed 1.03 percent higher at 754.68 yuan per share on Monday, with a peak of 764.11 yuan during the day's trading. Based on Monday's closing price, the company's valuation now stands at 948 billion yuan.
Earlier, it became the first consumer stock to achieve a market value exceeding 1 trillion yuan, higher than London-based Diageo Plc and Brazil-based Ambev SA.
Li Baofang, chairman of Moutai, said it is highly likely that the group will be able to achieve whole year sales revenue of 90 billion yuan in 2018. Next year, it is expected to achieve sales revenue of 100 billion yuan.
"The income of liquor products accounts for 94 percent of the group's revenues, indicating that our competitive advantage and core strength are in our main business. For Moutai, it has completely transformed from a buyers' market into a seller's market," he said.
"With strong demand and tight supply, we have been staying rational and trying to solve the difference between supply and demand, to help the market to maintain its balance."
Moutai announced last year that it would raise the prices of its products by an average of 18 percent this year. Li said the market response after the company's price adjustment is in line with expectations.
In the second half of the year, it is expected that supply will remain short of demand. As a result, balancing supply and demand will still remain the group's major focus.
In the long term, Li said the company aims to further improve its business performance, raise competitiveness and soft power, and clear its sub-affiliates that are suffering losses or have become irrelevant.
A 500 milliliter bottle of Moutai's classic Feitian 53 percent liquor that left the factory in 2015 now retails for 2,388 yuan on online platform JD. Earlier this year, the price of the same product was retailing for less than 2,000 yuan.
By ZHU WENQIAN/YANG JUN | China Daily |