Vaccine company paid bribes
Courts report 10 cases in which purchasers were offered money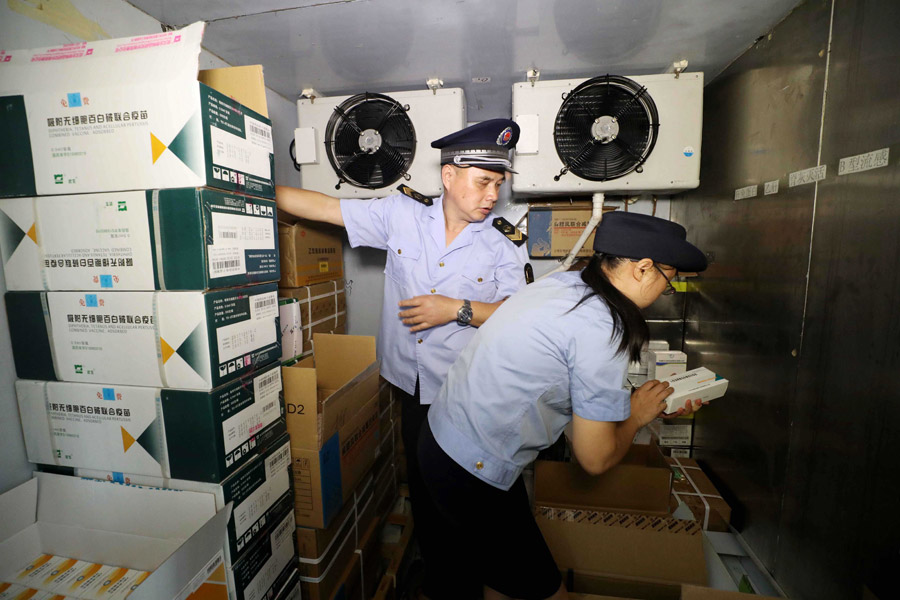 A listed pharmaceutical company being probed over a vaccine scandal has been involved in several cases of bribery in recent years, even as its profits soared, public records show.
Changchun Changsheng Bio-tech Co and its parent company, Changsheng Biotech, have been mentioned in at least 10 bribery-related cases in the past decade, according to China Judgment Online, a web-accessible database that discloses court rulings. China Daily searched the database on Monday.
The judgments in the criminal cases say the company's employees or distributors paid money to people responsible for buying vaccines, including those working in hospitals or disease control departments at the county or city level, to be given priority in vaccine purchases.
For example, a court in Ningling county, Henan province, ruled in September that a man surnamed Song, who worked for a disease prevention and control center in Suixian county, had accepted bribes of more than 1 million yuan ($147,000) from several vaccine makers or agencies since July 2011, including 124,680 yuan from Changchun Changsheng Bio-tech.
Song was sentenced to 18 months in prison for bribery and fined 200,000 yuan, the court information said.
In November, Xiashan District People's Court in Zhanjiang, Guangdong province, sentenced a woman in charge of vaccinations at a hospital to 18 months with an 18-month reprieve for bribery after she received illicit profits from the company's chickenpox vaccine agency.
But in all cases, the companies that paid the bribes were rarely prosecuted, as the amount of money offered was not enough to draw a harsher penalty under the law, and the company was not the only one to offer a bribe.
Despite being involved in several criminal cases, the company's recent profits have not been affected. Instead, it rose rapidly, especially after it went public on the Shenzhen Stock Exchange.
The company's 2017 annual report said it earned profits of 566 million yuan, up 33.3 per-cent year-on-year. It spent 583 million yuan for sales expenses – representing 60 percent of its total expenses. Of that, 442 million yuan was spent on promotion, the report said.
Chinese media reported that the company had been ordered to cease operations on Sunday after it came under investigation, but a security guard at the company said employees are "still working".
Several cars, including a police car, went in and out of the company compound, located in a high-tech zone in Changchun, Jilin province, on Monday.
"The factory is not taking days off," the security guard said, declining to add more detail. He added that everyone is awaiting the result of the investigation.
By Han Junhong in Changchun and Cao Yin in Beijing | China Daily |